Nestled in the rolling hills of Durham, Deer Creek Golf & Banquet Facility is no stranger to hosting premium weddings and special events! So, it's no wonder that with the help of handpicked vendors from the area, the Deer Creek Wedding Show has become the go-to wedding showcase for the Durham region. Missed the event? Don't worry, Hilary Spencer captured all of it's gorgeousness and I can't wait to share the details with you!
Florals from Flourish & Adorn
Vendors Featured in this Article
With so many beautiful spaces to host weddings, each of the rooms at Deer Creek were designed to inspire! We started off our Sunday with a delicious mock-tail in the Deer Creek Lounge (if only all Sundays started out that way!) and then made our way to the Westney Room which was transformed into a shimmering emerald green paradise courtesy of
Annie Lane Events and Decor
 and accented with florals from
Branching Out Florist
.
In the Mr.C room, the team at Rose & Bel created an elegant high tea party, perfect for a casual wedding or a Sunday afternoon bridal shower. The mimosa station designed by by Francesca, xo Weddings & Events made us all want to grab a glass and toast to an inspiring day.
Each wedding is unique, and the creative decor minds at the show were given the opportunity to show their stuff! In the Taunton Room cocktail area, inspiration was everywhere! With tablescapes designed to perfection by XO Florals, First Comes Love Weddings & Floral Designs, Chameleon Events and Hazel Boivin Weddings & Events, each couple could find something perfect for their big day.
We'd be remiss not to talk about the delicious food in the Lounge created by the Deer Creek culinary team! The Mac & Cheese with Doritos topping — my personal favourite — was a mouthwatering bowl of yum! And who could say no to a DIY caesar bar? After the savoury dishes, guests got to choose a delectable treat from the always popular donut wall.
Inside the main ballroom the real action took place! Vendors set up shop in the large Taunton Room and I must say, they definitely all brought their A game! I mean, can we talk about this gorgeous, classic black and white tablescape at Hazel Boivin's booth? Perfect for couples looking for a more modern feel to their wedding day.
And how about this sweet set up at Annie Lane Events & Decor's booth? More traditional with its soft pink hues and totally fit for a princess!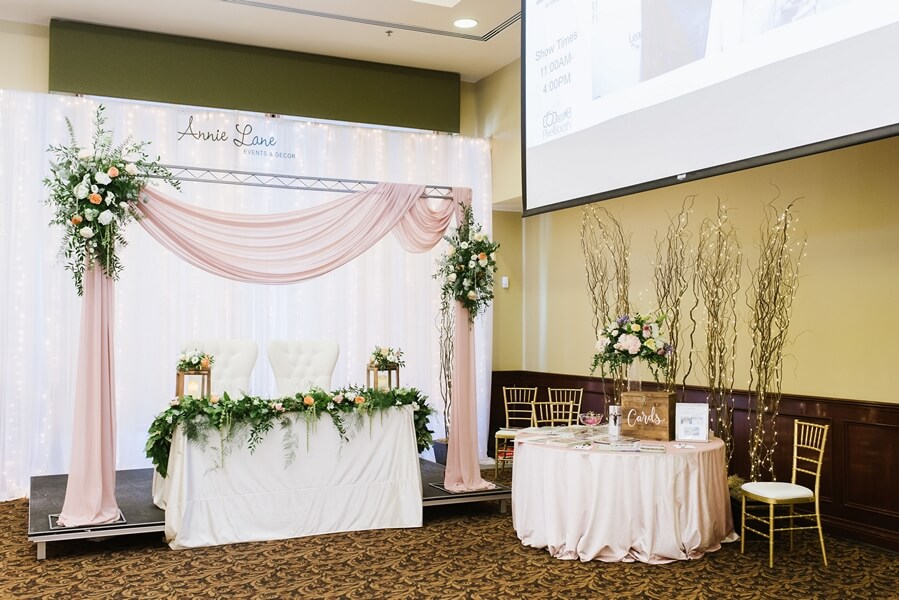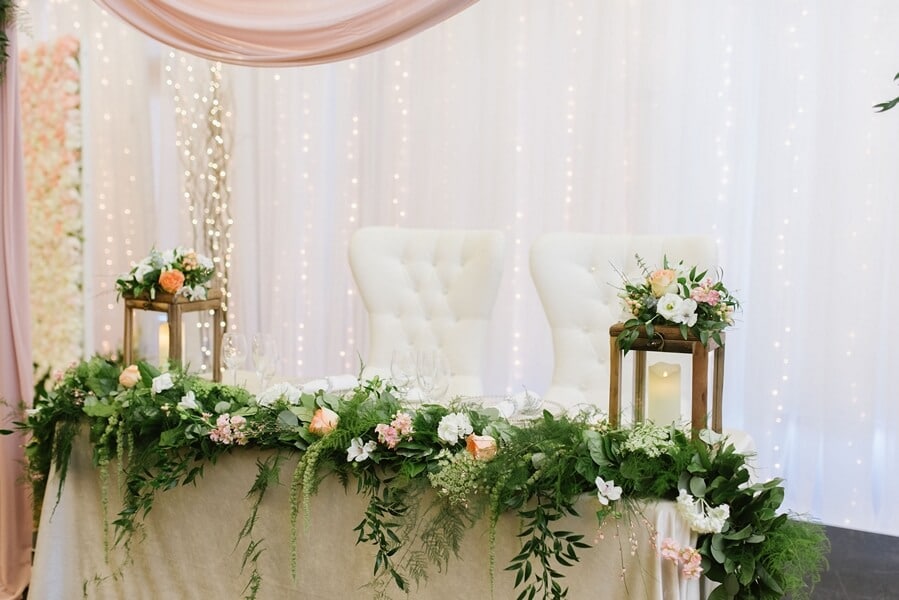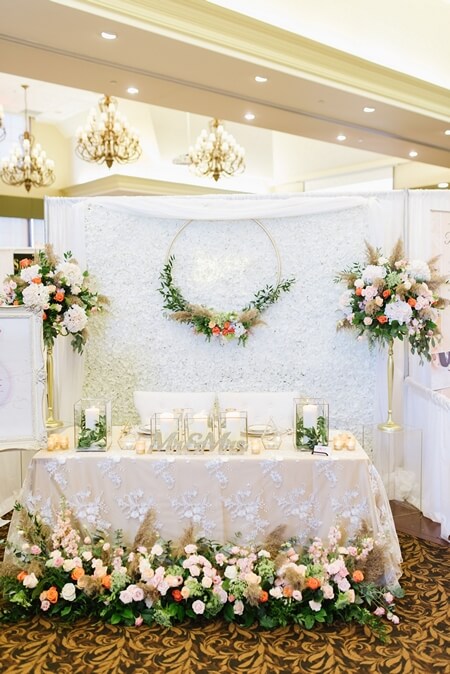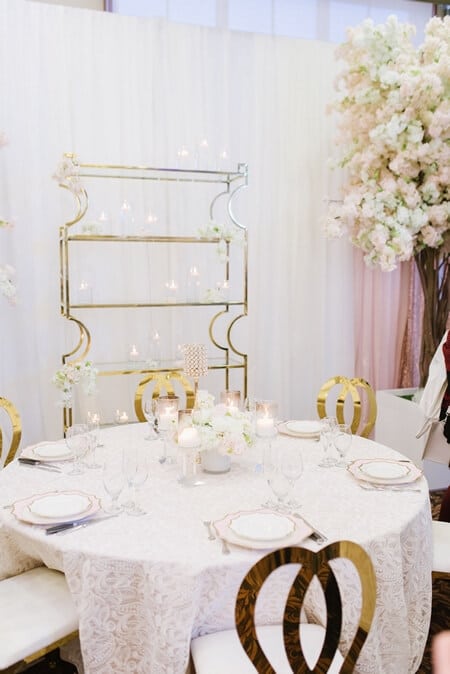 Pictured left, XO Events & Weddings showcased a lush, boho-chic setup, while Chameleon Events, pictured right, showcased more of a classically elegant design. 
One could argue that the most important element of your big day is the wedding cake – okay maybe not the most important, but if you have a sweet tooth like us, it ranks pretty high! Luckily for attendees, Cupcakes Canada, Charismatic Cakes by Jenn, Marsha's Meringues, Mitchel's Cake & Dessert Company and Simply Frosted were on site to show off their prettiest, most delicious cakes, treats and sweets (and guests were treated to some pretty tasty samples)!
From invitations, table numbers and menus, to cake toppers, acrylic signs and bags/totes, Paper Bag Prints set up to impress with all things stationery.
Your big day isn't just about aesthetics, there are also a ton of other elements that come into play like music, outfits, hair, makeup, activities etc., which is why there were plenty of interactive booths as well! Whether guests were listening to the musical stylings of Brent Miller LIVE or Liane James, harpist, getting their hair and makeup done with Locks & Lips and Lush Beauty Studio, or hitting up the PixelBooth by Leaping Pixel Media, FunPix Photobooth or VIP Digital Photobooth for some snazzy shots with their significant others and besties, there was definitely something fun for everyone!
Throughout the showcase, hopeful engaged couples mingled with wedding professionals from all aspects of the industry (including Samantha Ong Photography, Impact DJ, Blue Star Pyrotechnics, Mobile Productions Event Group and Sharleez Bridal, to name a few), chatting about their dream day and gathering insightful information. An afternoon well spent! Scroll down for more info about all the vendors present at the show!
More from this lovely showcase captured by Almost Married.