Just in time for the holidays, this dreamy shoot is sure to inspire you! The folks at Wu La La Weddings & Events arranged for a fresh and elegant look for this holiday creative inspired by Pantone's 2018 fall/winter colour, red pear.
From the Planner: For this holiday shoot, we wanted to inspire couples with a modern and chic way of incorporating the holidays into their winter wedding without making it too "Christmassy" and keeping a sense of timelessness while still feeling fresh and refined. 
The stylish decor features deep reds complimented by lots of greenery as well as soft pinks, ivory, and hints of gold. The snow white walls in the Conversation Room at The Great Hall serve as the perfect backdrop to make these festive colours pop! The talented team at Pep Studios capture all of the joyous details.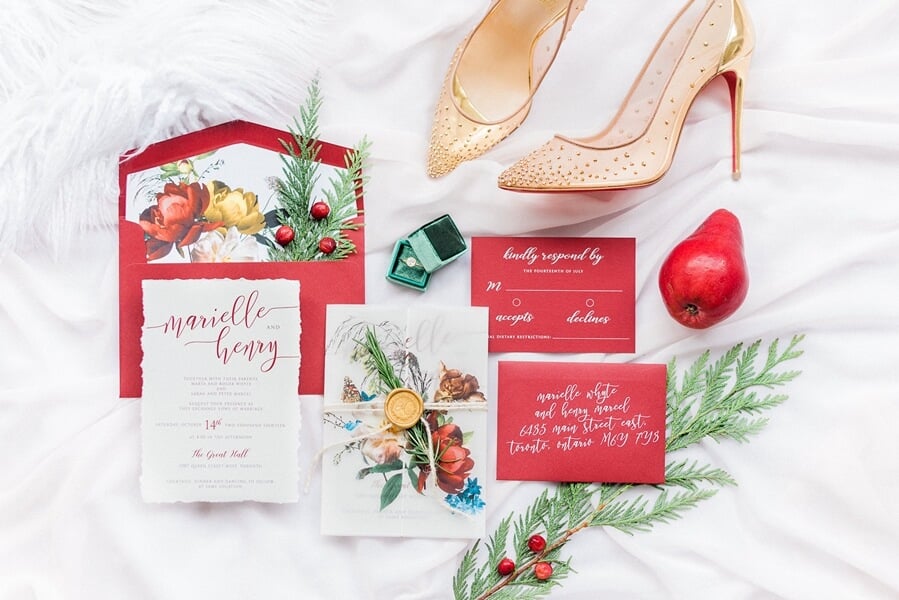 Stylish invitation suite designed by The Polka Dot Paper Shop
Vendors Featured in this Article
The ceremony was setup with beautiful crystal clear Tiffany chairs courtesy of
Detailz Couture Event Rentals
.
Flower Treasures
 designed delicate wreaths adorned with roses, dahlias and carnations to hang on the crisp white walls.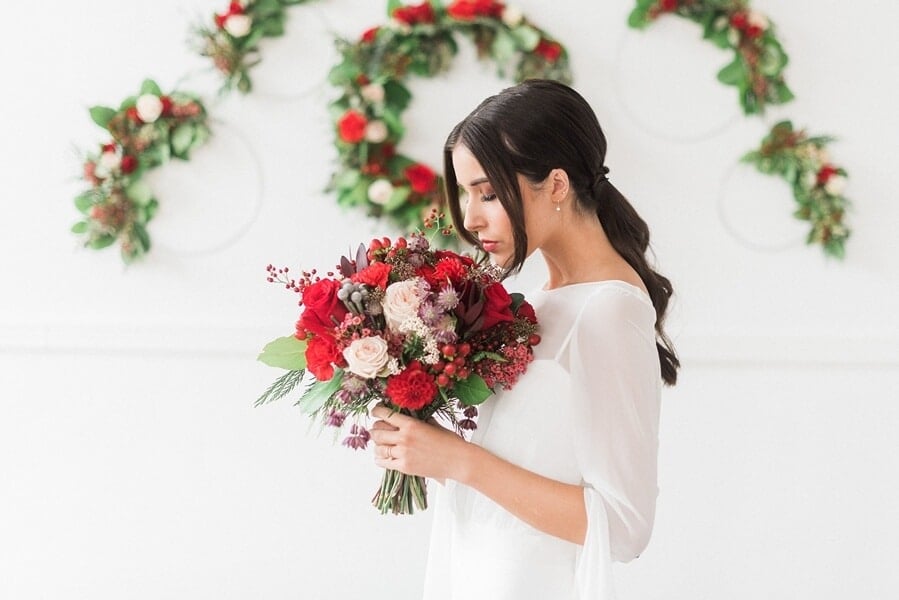 How about that seating chart?! Adding a festive touch, the mirrors are positioned to resemble a Christmas tree. To boot, each little mirror is decorated with flowers and greenery, and inscribed with stylish calligraphy by Love Lettering. What's not to love?
The sweet heart table is dressed in holiday chic — featuring a lovely floral table runner from Flower Treasures crisp white satin linens provided by Linen Closet, flute-shaped glasses, gold-rimmed China and gold flatware. The candlesticks and tea lights emitted a romantic glow.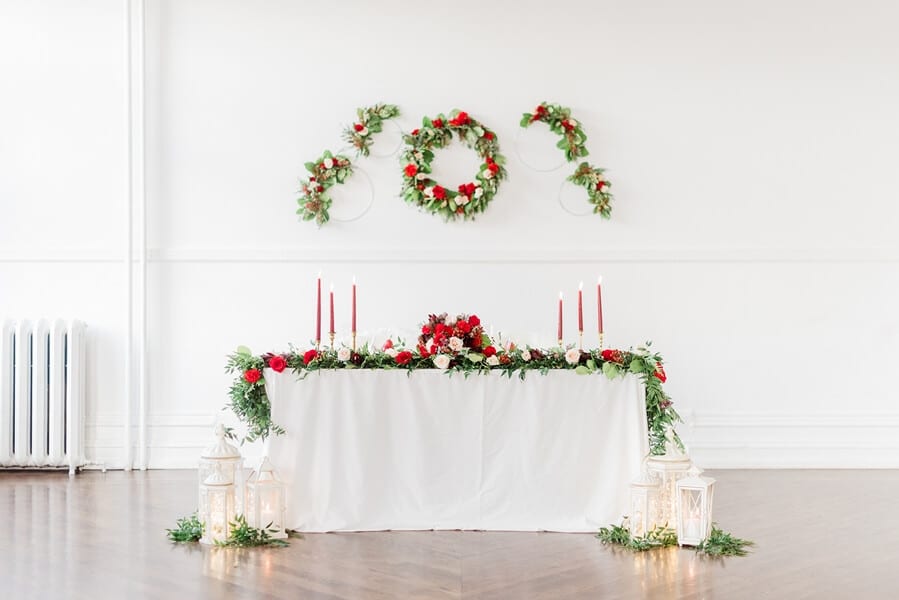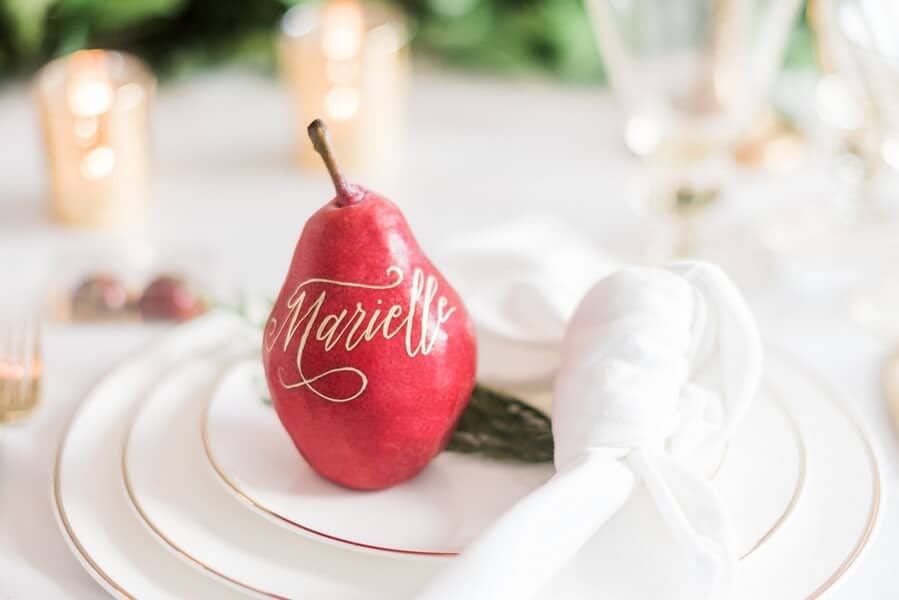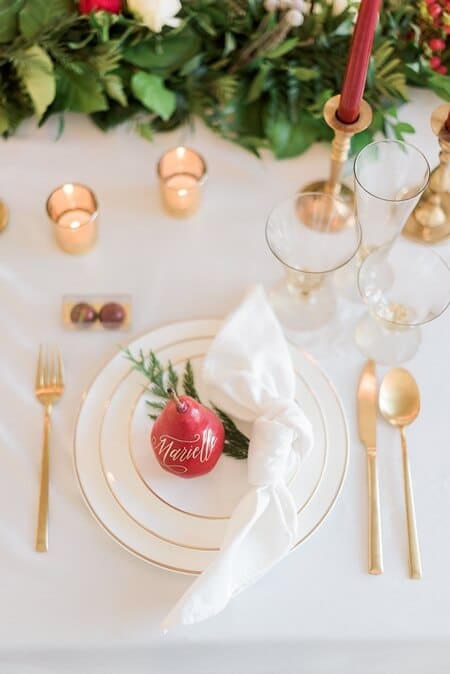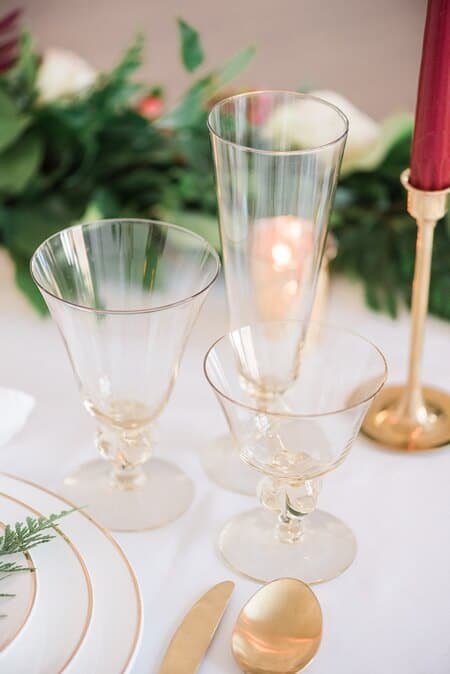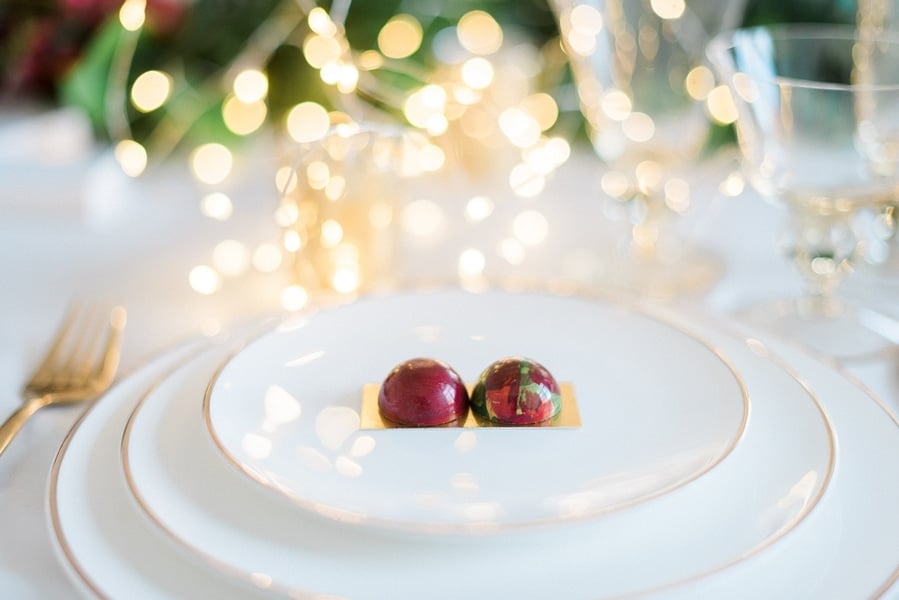 Succulent Chocolates provided delicious favours, each with a different holiday flavour like candy cane, eggnog, vanilla bean and gingerbread!
You can't end a party without having cake and champagne!
From the Planner: Paired with a cute ornament filled with cranberry juice and Veuve Clicquot champagne, this stunning cake designed and created by Joni and Cake was filled with delicate handmade sugar flowers and hand-painted art. The exquisite cake was decorated with a ribbon of cascading red and blush pink flowers, mint-coloured leaves and gilded accents. The other sweet temptations were made to match too – shortbread cookies with dainty roses and cupcakes topped with a large, inviting flower.
See more from this festive shoot captured by Norris Films.