Sure, we all know that it's the wedding reception that gets all the attention, but have you ever stopped to realize that a Wedding Officiant is the only part of your wedding that you actually need in order for your wedding to actually be a wedding?
As we've seen in the news recently, choosing the wrong Wedding Officiant can really make or break your day. Not only are Officiants responsible for taking you through the legal steps to validate your nuptials, the good ones will do so by crafting a unique ceremony that celebrates your love story.
I reached out to some of Toronto's top Wedding Officiants to find out what makes their services unique and also for their tips on what couples should look for when searching for their Officiant.
Four Seasons Celebrations
What makes your services unique?
"I'm not 20 or 30 or even 40.  I haven't simply been given the title of "Wedding Officiant".  As a Spiritualist Minister, I bring a lifetime of experience and spend time with my couples, listening carefully to their vision, helping  them create the type of personalized and meaningful ceremony they desire.  My approach is to be there for them, with them, helping them to enjoy their celebration as much as possible with warmth, encouragement and perhaps most importantly a sense of humour.  I have been told that I am the Queen of Calm and that my welcoming presence puts everyone at ease, family and guests alike. My life experience as a professional musical theatre performer, ensures that I am comfortable and confident in any situation or setting. I believe that love is love."
What should couples look for when booking an Officiant?
"The Officiant should be professional, well-spoken and instill confidence.  The couple must be totally comfortable with the Officiant and know they will be provided with the kind of ceremony they want, not what the Wedding Officiant/Minister wants."
Vendors Featured in this Article
---
Kettle Creek Weddings
What makes your services unique?
"I am part of an amazing team of over 50 wedding Officiants called Kettle Creek Weddings. Our unique approach to wedding ceremonies includes commitment to connect personally with every couple we marry,offering more ceremony choices than any other Officiant, being cost competitive, and bringing extraordinary confidence to the each wedding. The greatest compliment I regularly receive is that I was able to help a couple relax and actually enjoy their ceremony. We have been able to change the wedding culture by bringing a higher level of passion and professionalism to every ceremony."
What should couples look for when booking an Officiant?
"Connect with uour Officiant. A couple needs to feel a good sense of connection with their Officiant throughout the planning process and at the ceremony."
---
 I Do Wedding Celebrations

 Photo Courtesy of Brooke Cooper Photography
What makes your services unique?
"I love what I do. My easy going manner insures a relaxed ceremony as well I have a voice that can be heard. I am an ordained non denominational minister, my ceremonies consist of non denominational, civil, and same sex. My brides and grooms are encouraged to have input into their ceremony; this is your wedding and it has to be what you want. They will also have complete access to me from time of booking. I have a small chapel on my property where I conduct wedding ceremonies. Many destination brides and grooms make good use of this to have a civil ceremony before travelling south so that all legal work is done here first. Finnegan my Golden Retriever, is often invited to attend these ceremonies."
What should couples look for when booking an Officiant?
"The bride, groom and Officiant should be a match. This can be attained sometimes by a phone call, meet and greet, referral. Quite often they may have attended a ceremony conducted by their Officiant."
---
The Marrying Lady
What makes your services unique?
"The wedding industry or the business of weddings doesn't apply or appeal to me. I love providing couples with a wedding ceremony. I mean, I really love it and I feel like it's a gift or service that I'm giving that truly comes from my heart. Guests always assume that I know the couple extremely well because my voice is so full of emotion and sincerity when I speak, but its because I'm so delighted to be there for them in that precious moment in their lives. The day I no longer feel like this is the day I will stop doing weddings!"
"I have a tickle truck full of ceremonies from years of doing cross cultural and multi-faith ceremonies. As a member of the Toronto Interfaith Council, I have provided Catholic-style services under a chuppah, I've married a Muslim and Sheikh couple, and I've conducted a same-sex Wiccan ceremony in a chapel. Anything goes as long as they are happy! Being the multi-faith Officiant at the World Pride Mass Wedding at Casa Loma reminded me of how meaningful this rite of passage is when couples were returning to countries where their love could lead to persecution."
What should couples look for when booking an Officiant?
"Couples should ask an Officiant if they will let them customize their ceremony. Many civil or religious Officiants will be quite sticky about their routines or doctrine. Will the Officiant stick to their agreed upon ceremony or go off script? "

---
Rev. Tracy L. Cox
What makes your services unique?
"I would say what makes me different is that every ceremony I do is custom written to reflect the couple's own unique form of spirituality.  No two ceremonies are alike, just as no two couples are alike.  I have my degree in Divinity, and have been studying spirituality and world religions for my entire life, so I know how to work in many different elements into the couple's ceremony.  It's not uncommon for me to marry people who are of different faiths, so I am well versed in adding different elements such as a Buddhist prayer, a Baha'i marriage pledge, an ancient handfasting ceremony, or whatever the couple desires.  I am an Ordained Minister as well as an Ontario Wedding Officiant, so I am very flexible about what elements are used in the ceremony.  I am also a ministerial counsellor, so I offer support to the couple if they ever need someone to talk to in the future.  Marriage can be hard to figure out sometimes, and I have been trained to help with that.  I have been married for 15 years and we have a teenage son, so I know what I am talking about!"
What should couples look for when booking an Officiant?
"When a couple is choosing a Wedding Officiant, they really need to look for someone who they have chemistry with, and by that I mean that they are comfortable and actually like the person.  That will make all the difference in the world.  If the couple feels intimidated, or rushed, or that their needs are not being met, I can guarantee that they will be less happy with the final result."
---
 A Service To Remember
What makes your services unique?
"What makes my services so different is that, you can clearly see the passions I have for what I do. As an Ordained Spiritualist Minister I embrace all religions and also perform non- religious ceremonies as well, this makes creating a service incorporating other rites or customs very easy to do. The marriage ceremony should set the tone for the entire day and when love is in the air; your service should reflect that.  I have been called Durham Region's most unique Wedding Officiant. Each wedding is special, that is why I work with each couple to make sure that I includes what is most important to them.  At the end of the ceremony when I say "it is my honour and a distinct pleasure to introduce to you for the very first time"….it truly is."
What should couples look for when booking an Officiant?
"Weddings and ceremonies often are about the most memorable and remarkable days and times in one's life. Your Officiant should take the time to understand your beliefs, your values and what makes your relationship unique. You should not be handed a ceremony and then show up! You should collaborate, co-author and be a part of creating this remarkable experience! Whether it is a small wedding or an elaborate affair there is always ways to make it special."
---
Ceremonies With Choice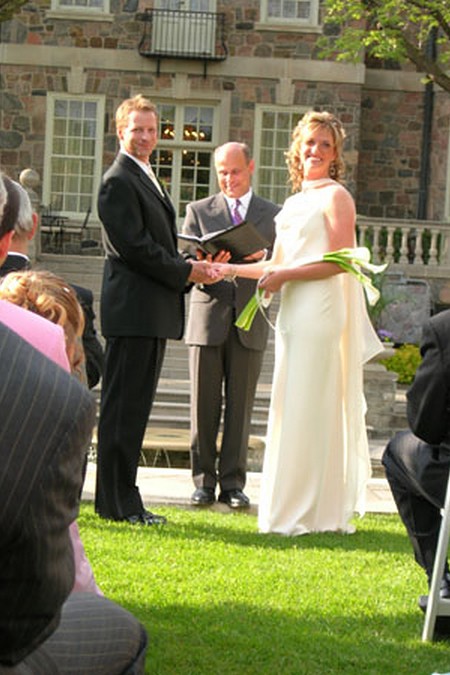 What makes your services unique?
"In addition to being an Officiant, I'm a psychotherapist so when I work with a couple my goal is always to help the couple celebrate "their unique relationship" and the values that are important to them so in essence no two wedding ceremonies are ever alike. In the first meeting with couples, I want to get a feel for the couple, their story and what is important to them in a ceremony so I can help create and shape their vision. They have the freedom to personalize their ceremony as much or as little as they want. The most frequent comment I receive from couples is from their guest's perspective: "it was the most personal and meaningful wedding ceremony they've ever attended". I typically do not book weddings close together so couples get my full attention and I tend to have longer term connections with couples officiating for other family members and friends, baby naming their children and I've even officiated funerals for their parents."
What should couples look for when booking an Officiant?
"I believe booking an Officiant is highly personal and having the "right fit" is important. Find an Officiant who is willing to meet with you. Given the stress of wedding days, no couple should be meeting their Officiant for the first time on their wedding day. The wedding day is all about the couple and their family/friends. If the Officiant gives you the impression it's more about them, (wanting a reception invitation, organizing excessively around their schedule, etc) then look elsewhere."
---
Rev. Rudy Heezen
What makes your services unique?
"As a Professional Wedding and Marriage Officiant I have been part of the Toronto wedding Industry for over twelve years. I reach out to everyone without prejudice and personally guarantee a first-class personalized service, and that your ceremony will be conducted with warmth, professionalism and grace. I offer a free, no obligation initial consulation and competitive pricing with no hidden fees or costs. A portion of my fees are given back to charitable causes."
What should couples look for when booking an Officiant?
"Choosing the right Wedding Officiant to conduct your marriage ceremony is one of the most important decisions you'll make for your wedding. You want to be absolutely sure you're making the right one. Here are a few of my top questions to ask your Officiant: How long have you been a ceremony Officiant? Will you marry couples of different faiths? What does your fee include? Do you need a copy of our marriage licence before the ceremony? If so, will you be mailing it to the office of the registrar general after the ceremony is performed? What is your cancellation policy?"
---
Enduring Promises

What makes your services unique? 
At Enduring Promises we offer our clients a no-obligation face to face meeting so that you can discuss your vision for your ceremony. A meeting will give you an opportunity to see if the Officiant is willing to invest the time to get to know a little about you, your personalities, hobbies, and family dynamics. In other words, an idea of who you are and some idea of your expectations. Does the Officiant have a passion for your wedding celebration or do you get the sense that yours is just "another wedding?" In order to help a couple create a fully personal, unique and memorable wedding ceremony, we establish a unique bond with the bride and groom. We believe that we should be flexible and supportive of the couple's desires yet confident enough, based on our experience, to say to a couple that "I see where you want to go, but I think we need to make this slight adjustment." This can only happen if the Officiant has taken the time to get to know the couple. But when this special bond is established, the Officiant will feel comfortable suggesting different ideas and the couple will trust the Officiant and their recommendations.  
What should couples look for when booking an Officiant?
"Ask for referrals. Quiz your friends, family and even your wedding planner about their experiences. Would they recommend their Officiant? If they would, that would be a great place to start. There are several trusted third-party websites that offer reviews/testimonials, so check them out!"