Reviews
Cristina Vasilenco
August 2019
Love this bakery. Great selection of cakes, coffee, pastries, sandwiches, freshes salads and lots more. Our family have been a Daniel et Daniel customers for more than 15 years. Our favorite place for good quality and yammy cakes made out off all natural ingredients. Strawberry shortcake, mango cake and chocolate cake our favorite ones. Exceptional customer service!
This place has wonderful Tuna sandwiches and you would expect much more but there are not many vegetarian options (which is fine) but not many healthy choices. The drinks are basically sugar based with few vitamins. I really wanted to love this quaint,cozy store.
Their food and bread are consistantly very good. From Shepard's pies to French croissant, you cannot miss. Especially if you want to impress
Victoria Stone
April 2019
The sandwishes are delicious, the soups and salads are so good too! As a veg I appreciate the variety offered. Great ingredients and super fresh :) you can walk in and walk out with lunch in less than 5 minutes
Janice Jirjodhan
January 2019
I absolutely love Daniel et Daniel! My family has been buying cakes from them since I was a little girl and we still continue to buy cakes from them to this day. Their cakes are absolutely amazing, with just the right amount of sweetness. I recently bought two cakes from here for both my and my friend's birthday's. I ordered a lemon chiffon cake and a white chocolate mousse. I must say they are exactly as I remembered and all of our guests were very impressed. Thank you so much!!
Daniel et Daniel Catering & Events has been mentioned inside these other vendor profiles:
Company Overview
Company Overview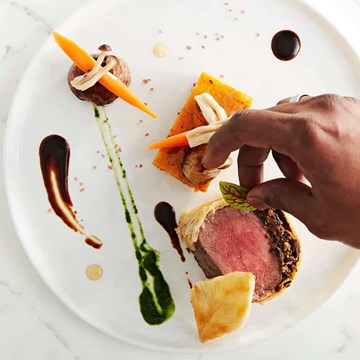 How Catering Companies in the GTA are Reducing Their Carbon Footprint and Giving Back to Our Community
9/11/2019
Read more
Map
248 Carlton St., Toronto,